Discover our new Pairing Menu of Herbal blended tea& desserts, and Autumn/Winter special menu.
<Herbal blended tea and dessert pairing menu>
Herbal tea and dessert set 900 Yen
*Herbal tea only: 500Yen
Starting from 2019/10/10~ (all season)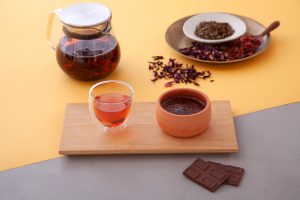 ◆Hibiscus Blended Houjicha × Chocolate Creme Brulee with Berry Confiture
(Tea) Lightly roasted houjicha blended with hibiscus and rosehip.
(Dessert) Rich chocolate brulee with refreshing taste of berry confiture.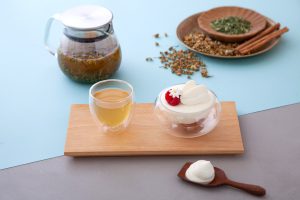 ◆Cinnamon Blended Kukicha  × Mascarpone Cream and Apple butter saute
(Tea) Kukicha blended Cinnamon and camomile.
(Dessert) Caramelized apple saute matches well with rich mascarpone cream.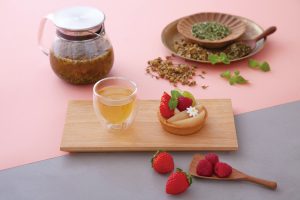 ◆Peppermint Blended Kukicha × Seasonal Fruits Tart
(Tea) Kukicha blended with peppermint and camomile.
(Dessert) Rich almond tart base topped with seasonal fruits.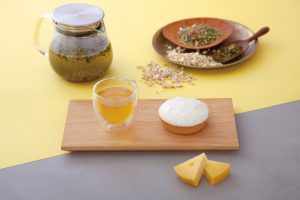 ◆Ginger Blended Genmaicha × Ricotta Tart with Orange Peel
(Tea) Genmaicha is blended with ginger and dandelion leaf.
(Dessert) Ricotta cheese tart with flomage blanc cream, with a hint of orange.
<Autumn/Winter Menu>
2019/10/10-2020/2/29
◆Okowa (Matsutake and pike conger/ Flavored ground chicken with wild edible plants) Houjicha set 1,200Yen
Produced by Chef Nakahigashi from "Miyamasou".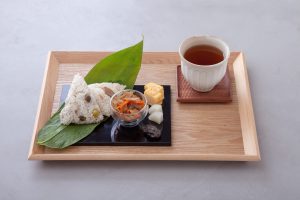 ◆Japanese Marron Houjicha Monaka 350Yen
Red azuki bean paste, Japanese marron, and houjicha cream is sandwiched with Monaca wafers.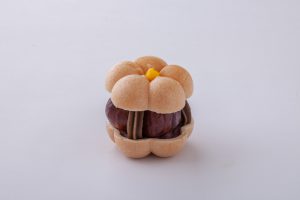 ◆FUKUCHA's Matcha Amasake Hot Dessert 700Yen
Mild matcha amazake soup with marron, sweet potato, sweet beans, rice flour dumplings, mizu manju and momiji fu toppings.